Wobage Christmas Exhibition 2014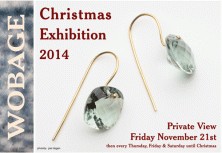 We are all showing new work for the winter season, an exciting range of pottery, kitchenwood, jewellery and textiles. Please join us at Wobage for fresh coffee and mince pies. The gallery is open Thursday, Friday and Saturday up until Christmas, 10am – 5pm.
Ceramics by Patia Davis, Sheila Herring, Sheila Casson, Andrew McGarva and Jeremy Steward.
Kitchenwood and furniture by Ben Casson.
Jewellery by Clair Hodgson.
Textiles by Clare McGarva.