Tea and cookies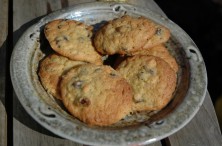 Of an early and busy weekday morning, I relish strong tea in volume, and what better to accompany it than a home-made biscuit. These in the pic are served on one of my side plates, and made from a recipe in Fearnley-Whittingstall's 'Everyday' pg.393, "Ten-minute cookies", delicious! Breakfast outside in March, fantastic. What with small children's early rising, there is some consolation for the clocks going forward after all!
For the tea, I will often reach for one of my own large round mugs. Alternatively, a large porcelain teabowl made by the late Simon Carroll. You'll see it in the foreground of one of the gallery pictures at the bottom of this post. The generously potted wall and wide rim cool the tea fast, no waiting around; down the hatch and onto the next! The glaze is almost transparent and pools a very faint celedon green into an intricate recessed pattern. This pattern is derived from one of the hundreds of carvings which Caz molded, shapes which he often threw into.
The other bowl I swapped with Niek Hoogland last year at Hatfield's 'Art in Clay', part of his wonderful new range of high-fired earthenware. The spout just in view is a Terry Bell-Hughes, whose work I hugely admire. As for Sid's Lindt rabbit, well it's probably delicious, but will it melt before it gets eaten?