Aber ICF, kiln demonstration success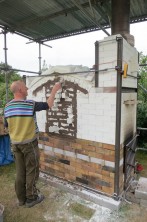 We arrived at Aberystwyth Arts Centre and University for the biennial International Ceramics Festival on Wednesday 26th June, lunchtime. By the end of Friday, we had our little Phoenix wood-kiln packed and ready to fire. The firing on Saturday went very smoothly indeed. We achieved up to 200?C per hr up to 1000?C, enabling us to spend a further 9 hours at the top end, including 3 hours reduction, salting and a good 3 hour soak. A rapid cool and we were unpacking some great hot pots by Sunday afternoon, and for brand new bricks the results were none too bad!
My deepest gratitude goes out to my assistants in the project, Ana, Penelope and Jack. Also the fantastic team of volunteers that made up the ICF committee and ground staff. Their contribution, hospitality and commitment to organising and staging this amazing event, were overwhelming. Thank you to everyone. It was such an enjoyable few days. You can view a great little stop-motion photo sequence of the kiln build and firing, only a minute long,  on Jack Welbourne's blog, or go directly to YouTube.