Adopt a Potter award to Ana Simmons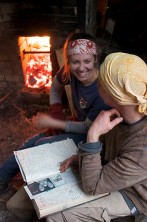 I am delighted to announce that from the beginning of December, UWIC ceramics graduate Ana Simmons, will join me for a 12 months apprenticeship under the 'Adopt a Potter' Scheme. Ana and I first worked together during the summer of 2011, during the Wobage courses season. She has since graduated with a 1st class (BAHons) degree, making a range of elegant reduction-fired porcelain. We are both indebted to the 'Adopt A Potter' Trust and all the hard work they do to support the funding of these apprenticeships. For more information about this, or to make a donation to the charity, please take a visit to their website. Next year we shall be donating mugs to the Trust for them to sell at events around the country, which will support future apprenticeships. We'll keep you posted on this so as you can get out and buy 'em quick!
Over the next 12 months Ana and I will be sharing studio space, and Ana will be dividing her time between her own work and throwing my standard-ware shapes, along with general studio chores, packing and firing kilns…….
We'll keep you posted as Ana's new work emerges from the studio! For more information on Ana's Tuesday evening classes, please view the Wobage courses site.