Here a shuffle there a shuffle…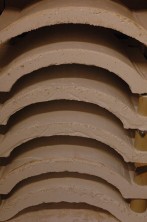 In between my usual practice of wheel-throwing pots, for several months I have also been working at a tangent, collating a group of new ideas and building upon untried techniques in preparation for this exhibition, 'Shuffling Sideways'. It was rather more awkward limping, than shuffling sideways to begin with, as is often the case in attempting to dip toes into the uncomfortable unknown.
These ideas first grew from some deeply impressed motifs applied to some of my thrown pots. This led to a train of thought towards porcelain and the potential translucency of these marks, which I thought may lend themselves to some kind of lighting. So I have recently begun a mini collaboration with a local friend, Herefordshire artist and designer-maker Colin Chetwood. He specialises in lighting and furniture in various forms and materials, but predominantly metal. The porcelain deflectors and integral steel wall brackets displayed in this exhibition reflect an exciting new departure for me. The layers of process and slip and glaze colour that are prominent in my pot-making, are here pared down to unglazed 'Royale' porcelain, high-fired to 1280C. With Colin's patient enthusiasm and encouragement, I am realising new ways of assessing these pieces, whose first and foremost objective is to model light.
Using the same large sledged plaster moulds that form the lighting tiles, I have also been working on a complimentary group of hand-built pots in stoneware and 'Limoges' porcelain. These slab-built and coiled pots have also offered a very refreshing challenge and change to my normal working methods. The slower pace of production and the various processes of building and assembly, lends a set of completely new ways of thinking and doing. Like the rest of my pots, these are slipped and some of them raw-glazed before being once fired in a wood-fired salt-kiln to 1300C.